Free Dessert on Fego Caffe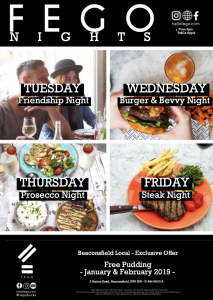 Did you know Fego Caffe is open in the evenings for dinner on Tuesdays to Saturdays from 8am to 10.30pm?
Each week day night there is a different theme: Tuesday its Friendship night, Wednesday Burger and Bevvy night, Thursday its Prosecco night and Friday it's steak night!  Bring the magazine with you and you can claim a FREE dessert! Its that simple! Bon appetite!
For more information on Fego caffe visit their website;