Give Hayfever the Heave-HO!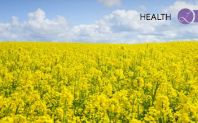 If you are unfortunate enough to suffer from hay fever, you are not alone. There are 15 million people who are affected by this and can cause a host of unpleasant symptoms, such as eye watering, blocked nose, swelling, mucus formation and itching and burning in the throat, nose and eyes….
However, there are many different treatments available to you and REVITAL in Beaconsfield suggest a number of natural remedies to give hay fever the heave-ho!
They are offering 5 lucky readers a pack of A. Vogel's Pollinosan Hayfever tablets to give away. Just answer the simple question:
What symptoms can you get from hay fever? 
a) Sneezing b) Itchy Eyes c) Blocked nose d) all of the above
To enter please answer the question with either a, b,c or d and fill the rest of your details in the form below.
Good luck!
Closing date is 15th April.