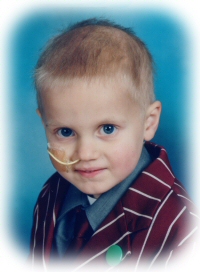 William's mum – Johanna Dodd and her family have been busy since 2001 working towards £1 million specifically for Research into Childhood Cancers. William Dodd was only 2 years old when he was diagnosed with cancer.
William's Fund was established in February 2001 in memory of William, who died on December 12th 2000 at the age of 4 years and 9 months. William amazed everyone at how he coped, always smiling with a twinkle in his eye that won so many hearts.
The William Dodd Foundation research post is run by Dr Helen Townley & Dr Karl Morten following the retirement of Dr Mitchell. They are conducting ground breaking research into Childhood Cancers which is very specific to Childhood Cancer; they have no funding other than the charity and no official fundraisers.
All the profits raised by William's Fund go directly to the research programme. There are of course many big charities concerned with cancer but most are focused on adult forms and this may not help the children. Childhood cancers behave in a very different way to adult cancers; they respond differently to treatment and can be unpredictable in both positive and negative ways so it is important money is raised to support this specific research.
For more information please go to the official William's Fund website. Click Here