Alex Dunlop – in the Spotlight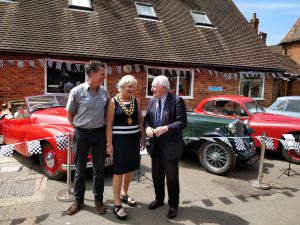 Some of you might know Alex Dunlop as the owner of A.J. Dunlop Car Servicing Ltd in Beaconsfield Old Town. Others will know him as Central Ward Councillor for Beaconsfield Parish Council. An affable chap, with a passion for many things. I met Alex to find out a little more about him….
Born on 24th October 1963, Alex's parents raised him in Beaconsfield and sent him to Davenies Preparatory School in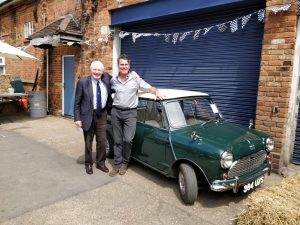 1967 and then to Beckett School in Chesham. He did not follow in his father's legal footsteps, but took more after his mother, who is more practical and creative.
After leaving sixth form, his passion for cars led him to begin an apprenticeship at a small garage called Short Brothers in Penn, using a bicycle daily from Beaconsfield for transport to and from work. He gained much technical experience working at Short Brothers Garage, whilst studying at Wycombe College for the written qualifications.
Once qualified, and with enough practical experience under his belt, he was confident enough to venture out on his own! He started up A.J Dunlop and specialised in Jaguars, which he loved. His parents – living at the time in Ledborough Lane – allowed him to turn their drive into a 'garage'! He bought a beautiful 1962 Mark II Jaguar and restored it, spraying it British Racing Green and (little-did-his parents-know)  filling the family home with paint fumes!
From 1983 he worked from a few locations around Beaconsfield and High Wycombe until settling his business on Beaumonts Wood Yard, which is where Beaconsfield Services was built. In 1998 when the motorway services plans were being implemented, he moved to the Old Town of Beaconsfield taking over The Old Town Service Station, where he had first to decommission the petrol pumps!
Over twenty years later, A.J Dunlop Car Servicing is very much part of the Beaconsfield community, and Alex was voted on to the Parish Council's Central Ward three years ago, and feels very privileged to be a part of. He is on two committees: the Nature Reserve and the Chiltern Rangers Open Spaces, and has been a supporting member of the Round Table. His passion for helping the Beaconsfield community really shines through.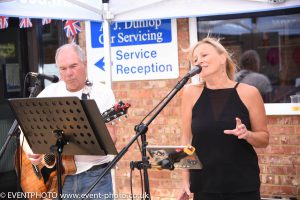 The garage holds an annual event raising funds for local charities and this year will be held on: Saturday June 8th at 11.00am until 4.00pm and he cordially invites everyone to join in the fun. There will be live bands, a Pimms Bar, dancing, and much more.
Alex is currently deputy Mayor of Beaconsfield Town as well as Councillor and has recently been nominated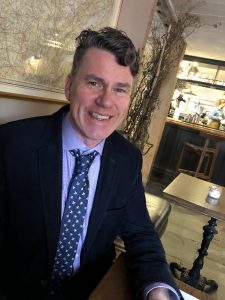 for the position of Mayor, which he said,  "If I am elected as Mayor, it would be a great honour to serve Beaconsfield Town."
We wish Alex the best of luck and look forward to his summer fete on June 8th.
Editor Notes: Since publication of this article, we are delighted to announce Alex Dunlop is now officially Mayor of Beaconsfield. and we wish him every success in this prestigious position.